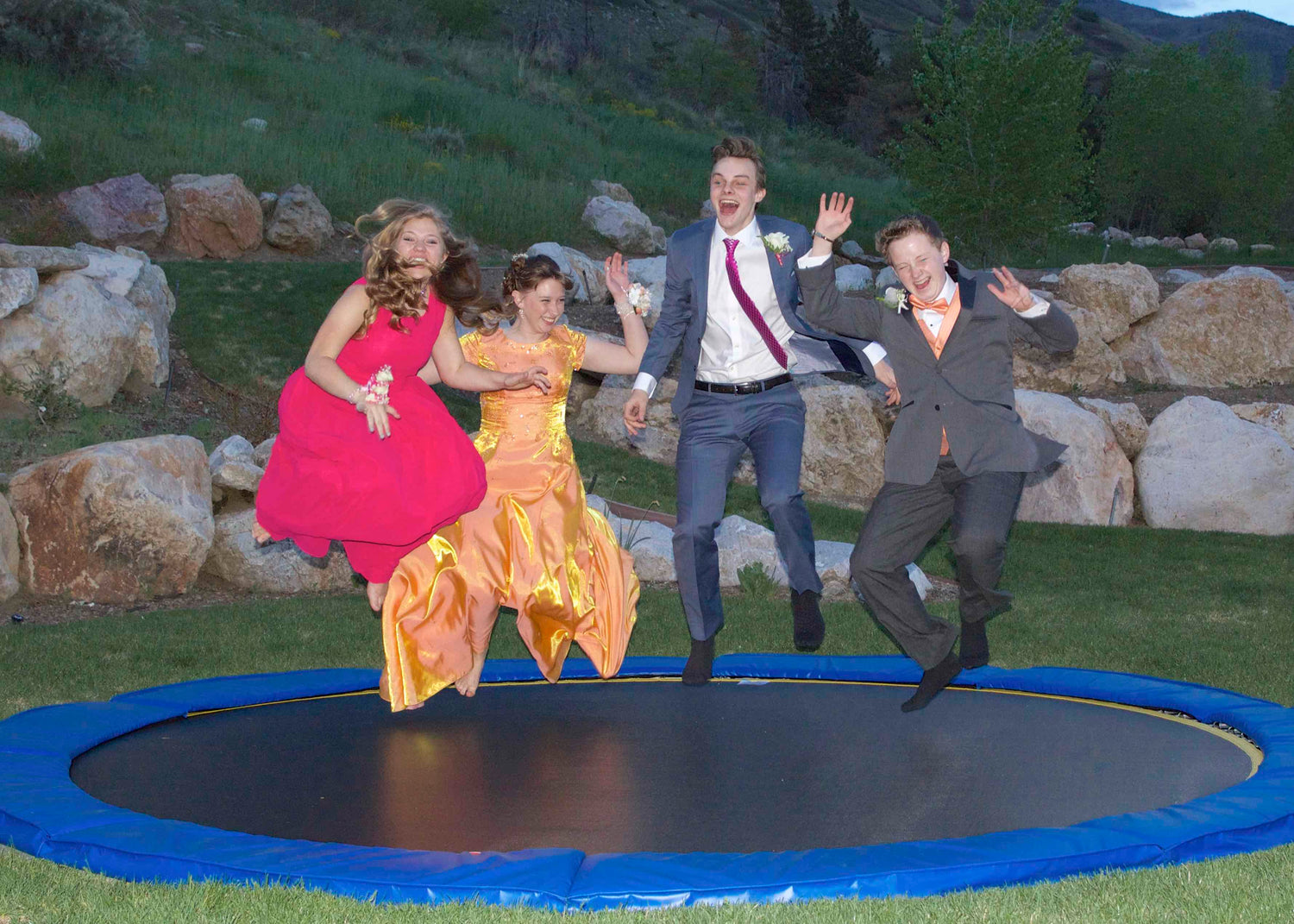 About
In 2013, my wife and I bought our first inground trampoline. We had lots of questions.  Was this the right investment?  Would our kids use it? And why was it so difficult to get an inground trampoline?  
Luckily, we soon realized that having an inground trampoline was the single best investment we ever made in our backyard.  Our four kids used the trampoline constantly.  It became the place to play and hangout for the entire family – we jumped on it, played games, had picnics and even stargazed from it.  Whenever friends and family came over, the kids would immediately gather there.  And the amazing part, our kids never outgrew it like so many other things.  The inground trampoline was used from elementary school through high school (witness our son's prom pic on the right).   
Wanting to help other families create the same backyard memories, we entered into the trampoline industry – with the goal to deliver great products, professional advice and amazing customer service.  
We bought, tested and reviewed many, many trampolines. Eventually, we partnered with Avyna who bring over 25 years of experience in the industry and make what we found to be the best trampolines in the world.  Located in the Netherlands, they are known for their high quality products and craftsmanship – and their trampolines deliver high performance and safety. 
It shouldn't be hard to get an inground trampoline...
So back to the question that my wife and I asked: "Why is it so difficult to get an inground trampoline installed?" 
The answer is that is shouldn't be that hard. That's why I joined a fellow industry expert with the goal to make inground trampolines easy. From our experience, we've seen real issues with some inground installations.  The problem is that most landscapers just don't have enough experience – so they are learning on your installation. 
With TrampolinesInground.com, our goal is to make getting an inground trampoline as easy as 1-2-3.  No more headaches about which trampoline to get, finding a credible landscaper to do the job and then getting it scheduled.  We'll work with you to make the process super easy and hassle free.  Our professional installers are the best in the industry - this is all we do and we're experts at our craft.  We look forward to working with you to help create backyard memories for your family!